Clon Browser is a foreign antidetect browser for multi-accounting
Anonymous (antidetect) browsers are necessary to hide PC footprints and parameters. For example, if for attracting visitors to another web-site such platforms as Facebook, Yandex or Google Ads are used, you might be banned when launching ads from several accounts from browsers such as Firefox or Chrome if settings are incorrect. Or when you have more than three accounts in a social network for product advertisement: without a proxy or antidetect browser such accounts can be blocked because of the same IP-address.
There are a lot of antidetect browsers with similar features in the network. A perspective project may be distinguished out of them - Clon Browser. When compared with same services the price for the same services differs; namely, in average the price for "Novice" package in another antidetect browser constitutes between 30$ and 110$, whereas, the price for Clon Browser start package constitutes 10$. As well, a custom package may be executed which will include only the functions which may be useful. The price shall be discussed with the customer support, as well as the functions you want to have.
Clow Browser is a product by a small team of Singapore developers. As they declare on project's official web-site, "profile setup in ClonBrowser creates individual environment for information view and search". To use ClonBrowser, it is recommended to have translator at hand unless you speak English. Translation into Russian is available, but it is incomplete, so far. They promise to fix the situation in future updates.
Starting work in Clon Browser
Notwithstanding, that the browser may be downloaded from other platforms it is recommended to install it from the official web-site - https://clonbrowser.com in order to exclude downloading malicious files to operating system. To do this, press "Download Register" button in the upper right corner of the screen.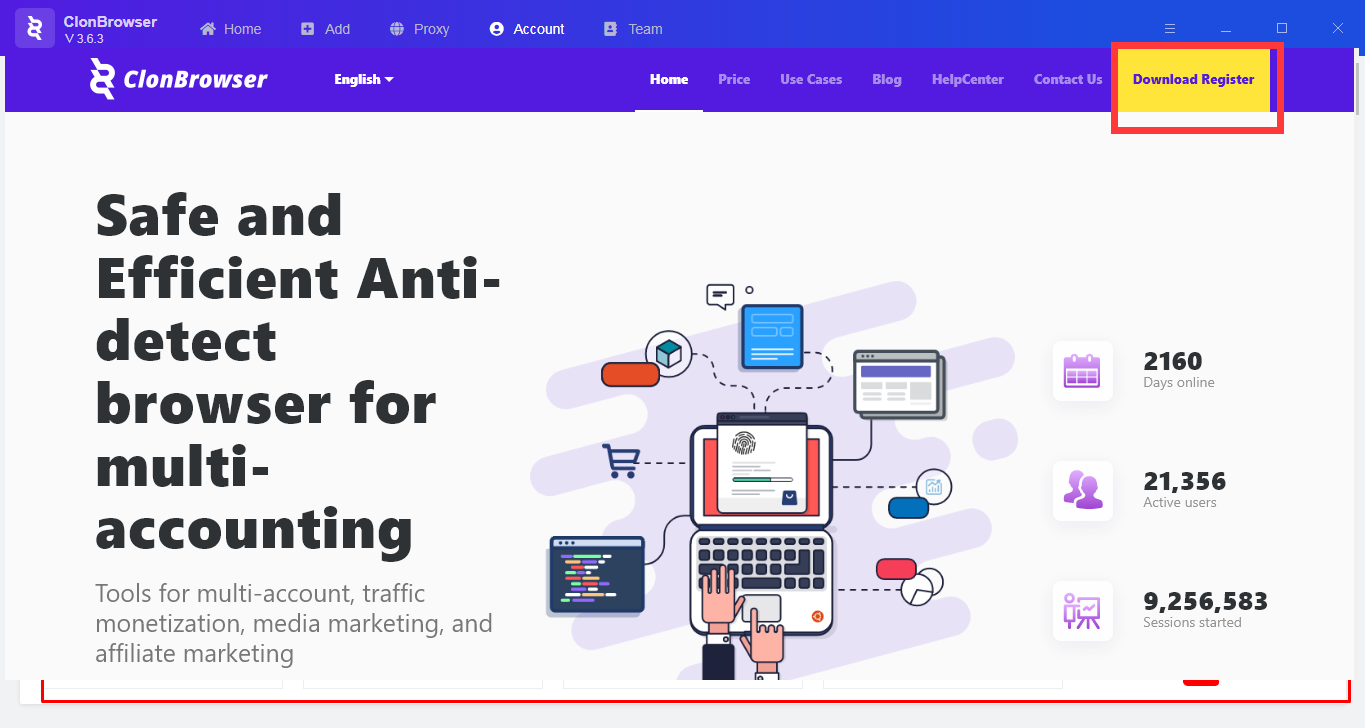 To download the browser register, specify e-mail address and create a password.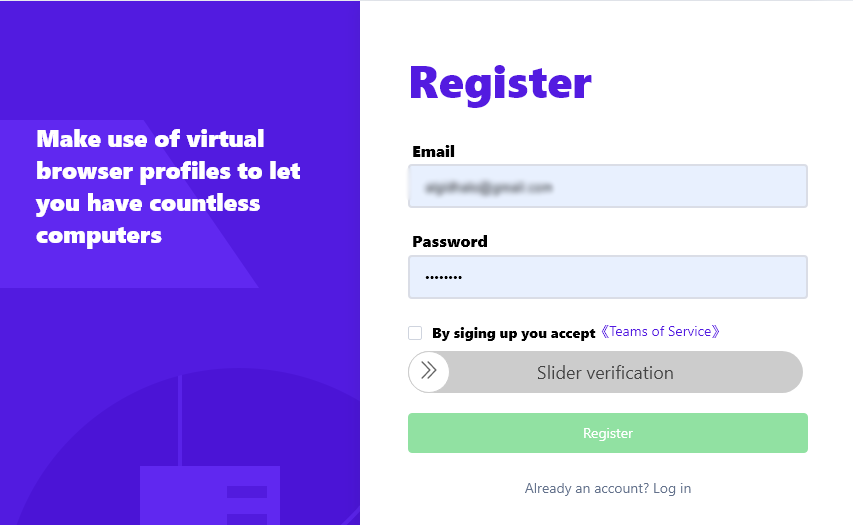 In order to confirm registration specify a six-digit combination of digits which will be sent to the entered e-mail account. Further, download the client and install to the specified place in your computer. Upon launching enter the account using e-mail and password entered during registration.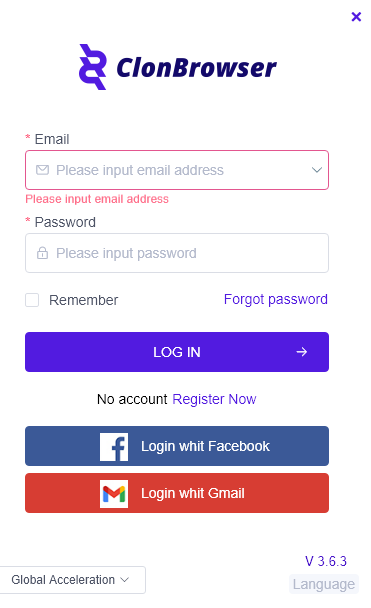 Program interface
Let us take a close look at how to work with Clon Browser. To do this, let us consider main tabs and settings.
Home page interface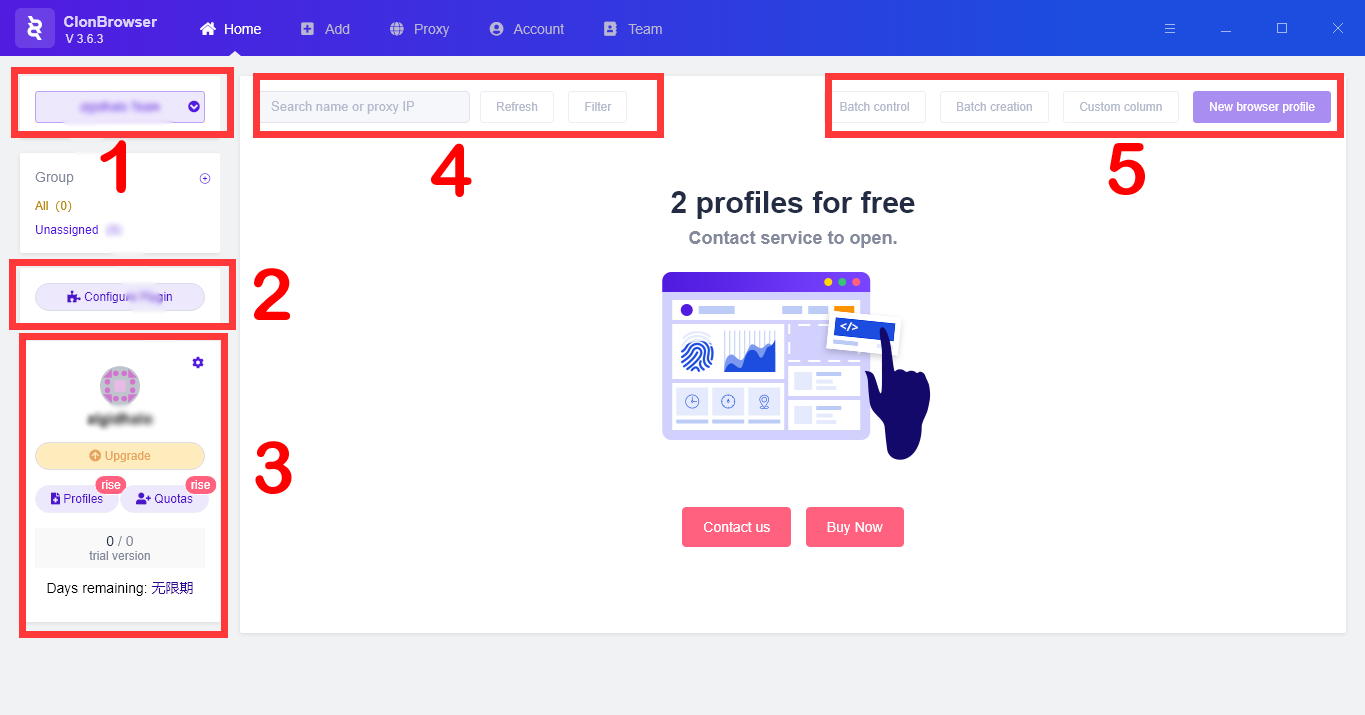 Name of your team. It is actual in case if you have purchased a package which provides the use by several persons at the same time.
Plug-in setup button.
Name of your account (meaning only your account, not that of the whole team). When pressing a small gear sign in the right upper corner you can upgrade it, i.e. to buy a more expensive package, to shift to a tab with account settings or to switch between teams if you are connected with them. In the very bottom there is the quantity of days until expiry of subscription, if it was purchased earlier.
Search box for finding earlier created proxies by their name of IP. There is a feature to update the page for displaying new proxies or to use filter for more customised orientation.
Control and creation of new profiles.
Add tab
In this tab you can create a new profile and set up technical parameters for it. Let us see this section in detail: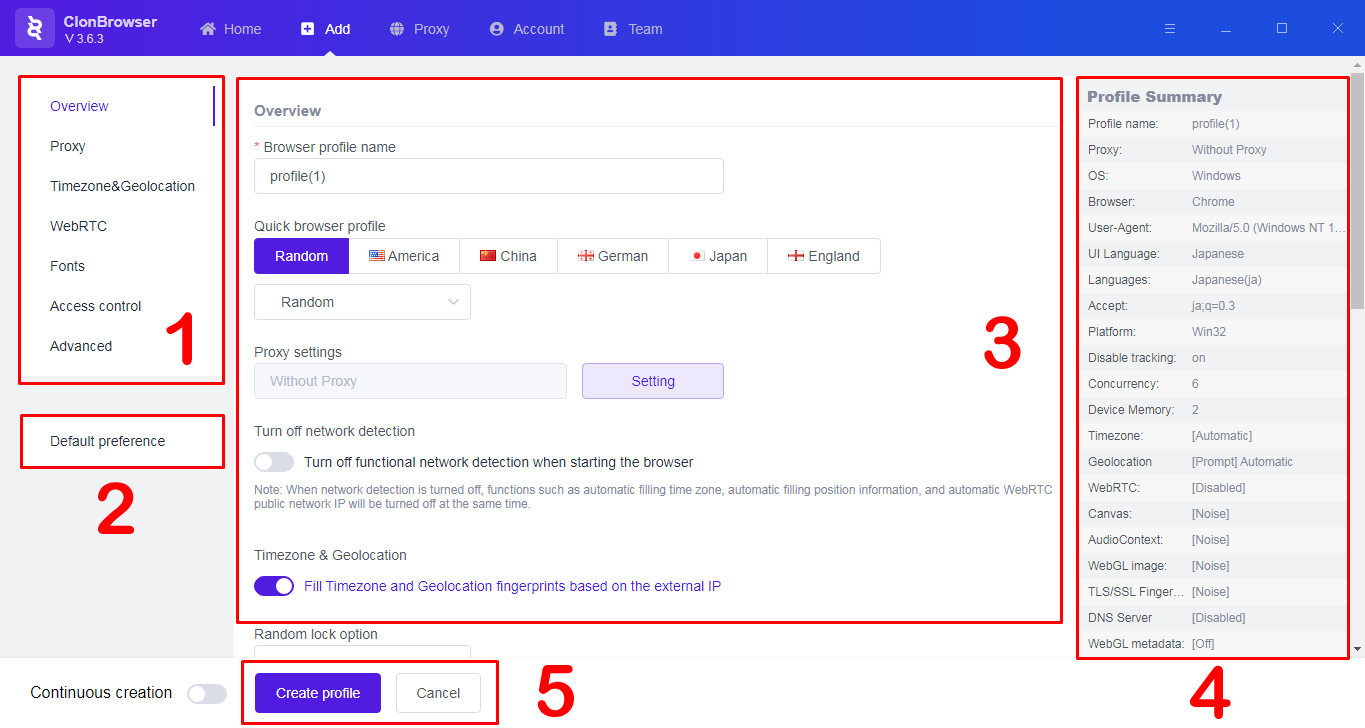 Navigation by sections which enable to make technical settings for the profile (proxy, time zone, webrtc, scripts, etc.).
Return to "Default" settings.
Making settings in the section selected in paragraph 1 (in our case setting is opened for "Overview" section).
Profile information. Data are changed once new adjustments are made and settings are changed.
Button for creation and cancelling of creation of a new profile.
Proxy tab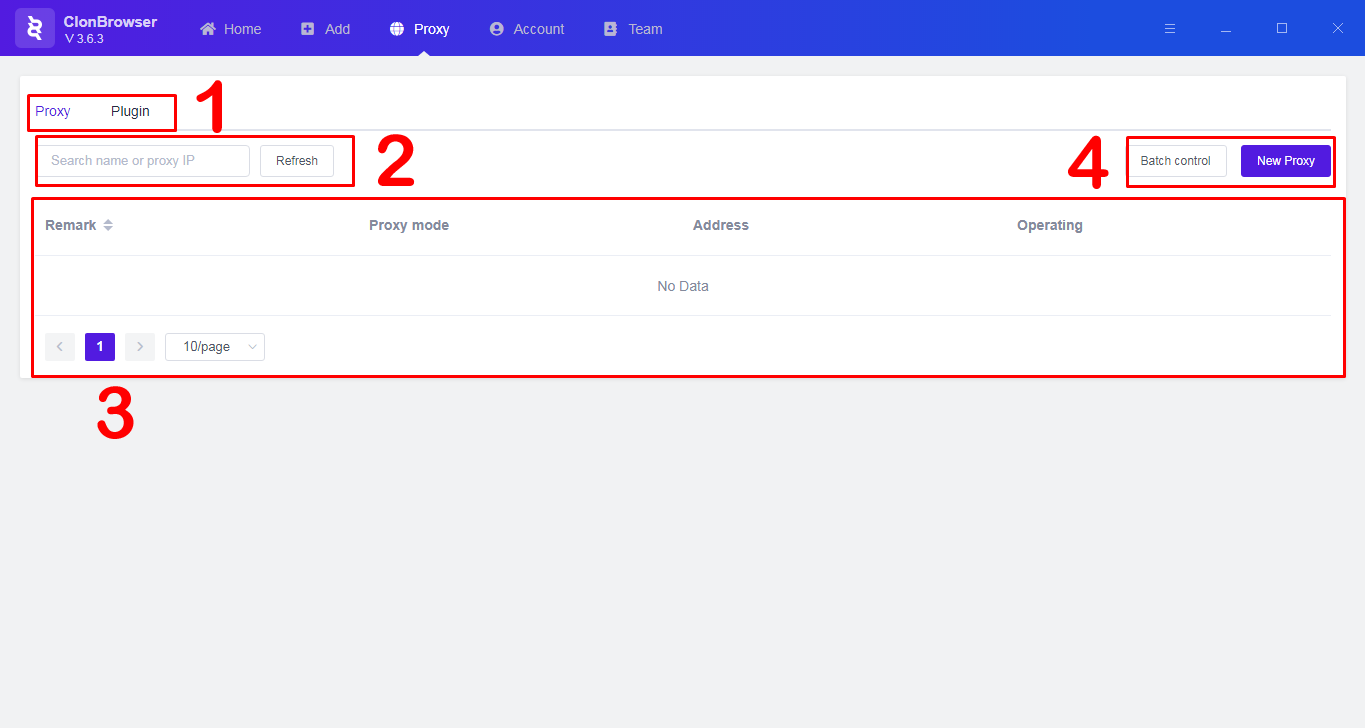 It allows to switch between sections "Proxies" and "Plug-ins".
Search of specific proxies among earlier added ones.
Information about all the added proxies.
A button which enables to add a new proxy ("New Proxy").
Below, please, be advised how to add a proxy and bind it to the profile.
Press "New Proxy" button and in the pop-up window specify a type of protocol from proxy.
In "Remark" specify a name for the proxy which you are going to add. In the fields below specify the following data from proxy: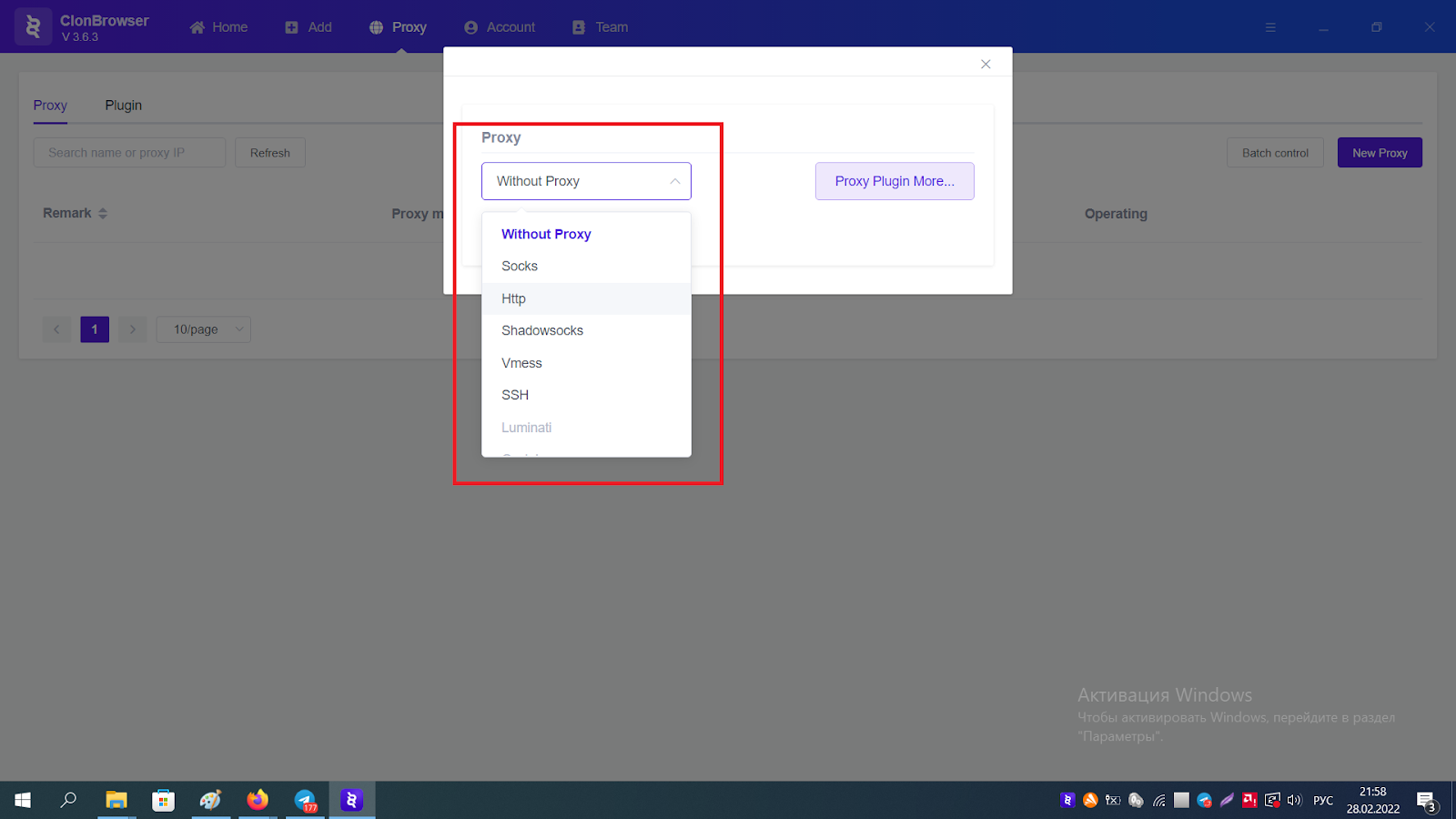 "IP or host" — proxy's IP address.
"Port" — a port of proxy.
"Username" — a login for proxy.
"Password" — proxy's password.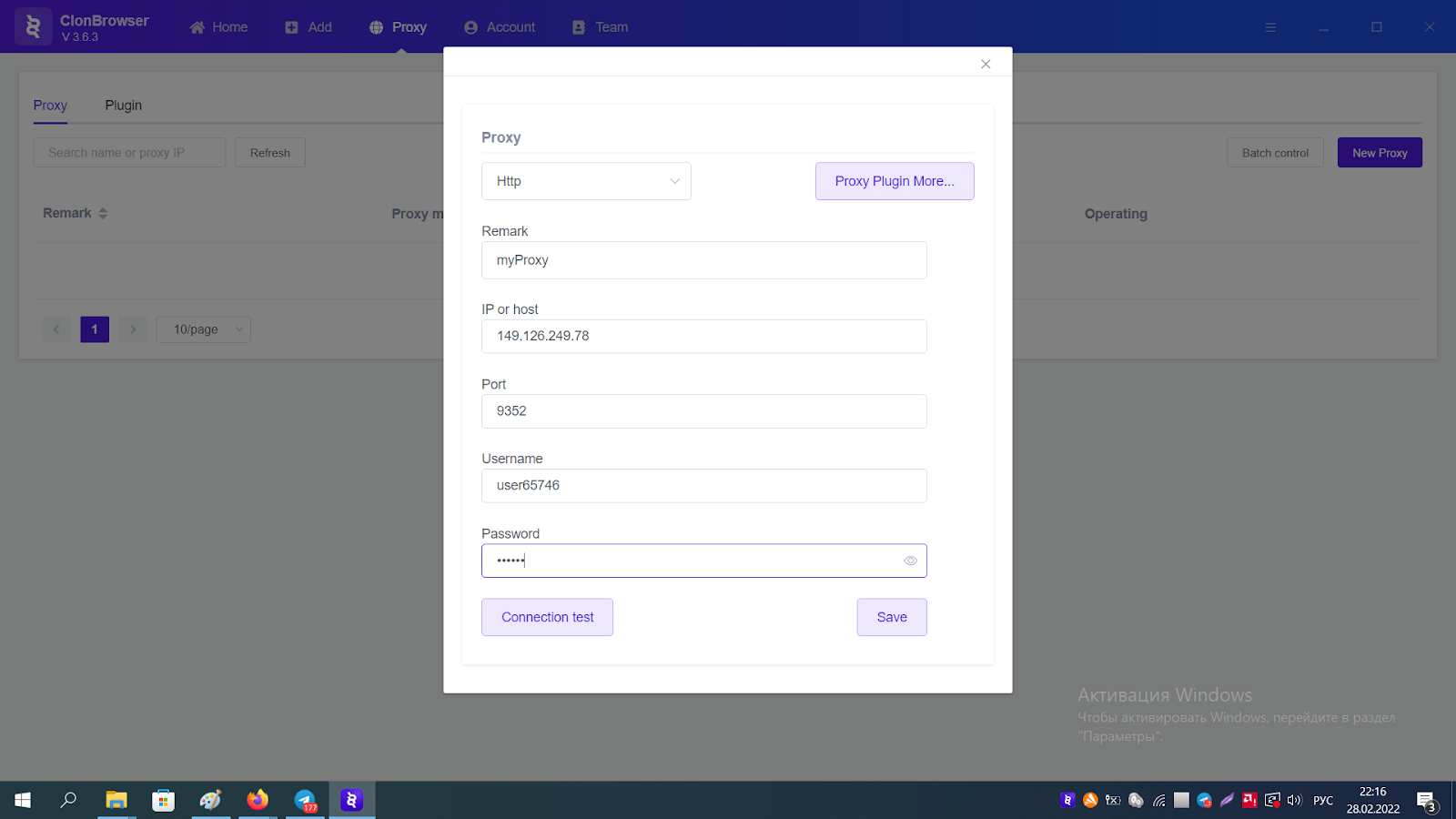 Press "Connection Test" button to check proxy functionality.
Press "Save" to save the set proxy.
Using this, you can beforehand add several proxies so that in furtherance they should be attached to accounts in ClonBrowser. In order to attach proxy to a specific profile the following should be done:
When creating the profile ("Add" section) shift to "Proxy".
Press "Agent list" button.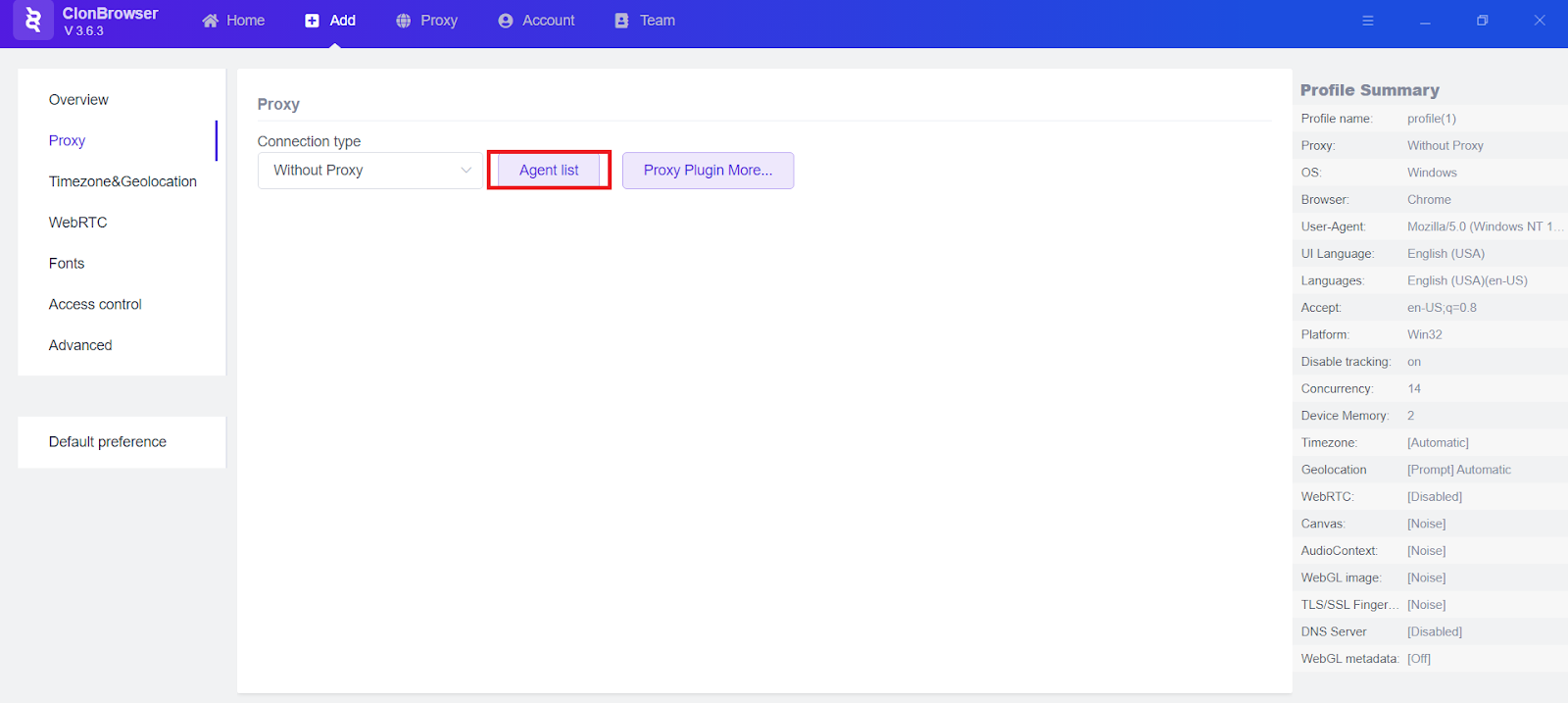 Press "Use" button to the right from the corresponding address.

Done, the proxy is attached to the profile. Now the account will work through the selected proxy.
On our web-site buy mobile proxies to work with Clon Browser . Should you have questions as to the work with proxy or tariff plan selection contact the customer support (at the right bottom corner of the web-site). It works 24/7 and will be happy to answer any questions.
Team tab
In this tab you can find information about the commands to which you are added.
Conclusion
Selection of antidetect browser depends on your personal preferences and required anonymity. Clon Browser has a trial period which will help to get familiar with program functionality for free. It has no integrated add-ons which can spy over user's activities and insert ads to the browser. Make sure yourself by checking the source code - it is open for all the users.