The scanner of Sure Bets PositiveBet

The scanner of Miracle Bets PositiveBet was created in 2013. The scanner operates only in Live, therefore is considered as a lider in this way.
PositiveBet became a standard of a scanner working with bookmaker forks in real time. One must admire developers, it started to work fastly and without bags first. Additional Opportunities and the speed of work are increasing, and the scanner is developing.
Users see only forks with profitability less than 1% for free. In every sure bet is available the link to a betting shop, where events are happening in Live directly. Also a calculator is available against every fork. Click on it and you will automatically see payment of a bet.
Users see the full filter of forks only after registration. Using filter, you can choose proper betting shops for scanning, mark currency of calculations in them, fork's profitability and the range of coefficients for bets, choose types of sport and separate markets for scanning.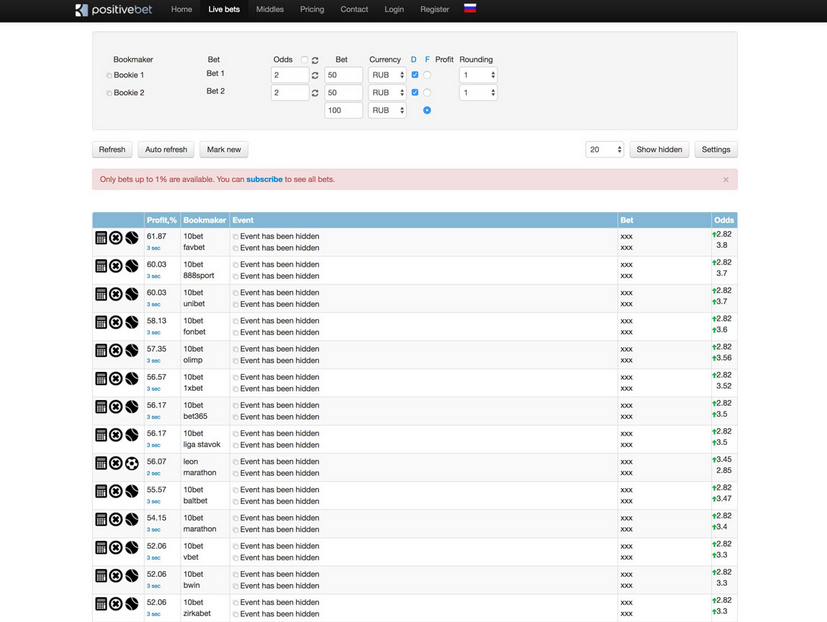 Bookmakers must change addresses of web-sources very often, therefore in settings users can change previous ip-address to new for every betting parlor. The service enables it. Buy elite proxies for changing IP you can on our site.
Corridors – another function in this scanner, which wasn't implemented in the first time of the project. Also adding scanning of arbitration situations for positive and negative corridors. PositiveBet shows you the percent of loss on the spot.
And icing on the cake: PositiveBet doesn't separate service provision, but subscription provides the full set of parameters..
The System of Rates
Rates' system of PositiveBet differs with the time of how long the subscription is activated. The full functionality of the service will be available for users, who take out a paid subscription for one day and for 3 months – in many cases as you see. It costs 10$ for 1 day, but if you subscribe for 3 months, it will cost 2.77$ for 1 day.
For users PositiveBet is available the function of suspension of membership. The amount of temporary halts is developed on the period of subscription. This function is created in case of pressing matters. Users stop bets on forks without loss of money. You can suspect the subscription for 3 months.
For paying membership are Bitcoin, WebMoney, Qiwi, "Мир", Skrill, PayPal, Yandex.Money, Visa and MasterCard.

Affiliate Program
This betting shop enables earn money involving users to the site. Every invited user who took out a paid subscription gives you up to 30% from his profit.
The list of betting parlors that are available in PositiveBet:
WilliamHill;
Unibet;
Titanbet;
Pinnable;
1XBet;
10Bet;
888Sport.
The ease of reference
The scanner analyzes a big amount of current betting shops. It is adapted for Russian and English languages.
The next currencies are available:
the Russian rubles;
dollars;
euro;
the Urkainian hryvnia;
the Polish zloty;
the Kazakh tenge;
the Belorussian ruble;
the British pound.
Though currencies play a secondary role on the site-scanner, they need only for ease of reference with a built-in calculator and for increasing the speed of counting off the profit for every bet. So if there isn't some currency in settings, it's not a problem. You can count off in dollars but set any currency.
Additional Opportunities and Software
PositiveBet has an extension which enables to bet faster and easier, moving a bet and the sum to the special coupon on the site of the chosen betting shop.
The plugin doesn't work faster with every parlor, but with a majority of them. This extension, along with simplification of the betting process, also masks a user, imitating transitions from the main page of the betting shop to the section with bets in Live.
It is the main function because betting parlors try to discover users, therefore it is undesirable to transit from the scanner site to the bookmaker's source.
The extension is created for 3 browsers: Google Chrome, Opera and Mozilla Firefox.
Also there is one more plugin PositiveLink. It masks your IP-address and enables you to see betting forks even when you have limited access to the sites of bookmakers.
Conclusion
The majority of users' reviews about PositiveBet are affirmative. Developers refer sensitively to their product, thus they answer their customers' questions even from third-party sources.
There isn't a place where customers can communicate with each other. Forum could have been useful because users could have shared strategies of arbitration situations and told each other about the nuances of betting forks.
At last we can say that PositiveBet is one of the best instruments for searching forks in real time. Using this product is not expensive. This scanner has simple and comfortable functionality. You can learn it within minutes.