Youtube Booster is a program to promote your Youtube channel

YouTube was and still is the most famous video hosting site. On the site, almost every user can publish content and make money from it. However, today it is difficult to gain the first views and subscribers, because monopolists in different niches take away almost all the traffic. Therefore, the question arises as to how to promote a channel on YouTube, despite the fierce competition.
Promotion of the YouTube channel
Today we're going to look at a program that can solve all the problems of a beginner youtuber: gain subscribers, bring your video to the top, earn money from advertising, get likes and comments. The advantage of automatic promotion is that the videos will be promoted regardless of the youtube algorithms. There will be as many views, likes and subscriptions as you want (within reason).
Technically, it is very difficult to provide artificial promotion on YouTube; in most cases, views and subscriptions are cancelled because the video hosting has deemed them to be tampered with. This problem is often faced by those who order promotion services on third-party services, paying for a certain number of likes/subscriptions/views and so on. When you order services at a third-party service, you can not be sure of the quality of accrual. The number of charges is affected by many factors: account origin, IP addresses, and browsing history. Therefore, there is a high probability that another person will do a low-quality promotion. Another thing is to create your own accounts and control the promotion process. And this is where YouTube Booster will help.
YouTube Booster features
With this program, you will be able to create your own profiles, which will perform active actions on the channel. You don't even need Gmail accounts to emulate views. This will not affect the bounce rate in any way, since all accounts are adapted to real users (including your browsing history). Also, bots will act uniquely, and get to your videos in different ways to deflect suspicion.
A complete list of YouTube Booster features:
Emulation of video views and streams (from Google accounts and ordinary generated profiles);
Adding likes and dislikes;
Adding subscribers to the channel;
Accrual of comments;
Viewing / skipping ads for monetization;
Ability to set the duration of the video, as well as specify the place from which to start watching;
Emulation of transition from recommended videos, Youtube search, home page of YouTube, video channel, direct links to videos or transitions from other sites.
Anonymity. Script has high anonymity and protection from different leaks, some standard BAS functions were reworked in order to provide maximum security while working with Youtube in order to prevent cheating and bans).
Maximum emulation of human behavior. Script can perform smart rewinding (if needed), move mouse on progress bar, read description, comments, sometimes open recommended videos, copy link, pause, highlight text on page.
The program works in multi-threaded mode, so you can create/use several dozen accounts at once. The speed of operation depends directly on the capacity of your device/virtual server.
If you need quality subscribers, the program will help you automatically register Google accounts via virtual numbers. There is integration with SMS reception services, so the process is fully automated. At first glance, the cost of Google accounts may seem too high, but it is not. You gradually build up a base that can be used to promote other channels, including for money.
Google is known for its annoying captcha, which prevents users from automating account registration. YouTube Booster has considered this, so it has a built-in captcha unscrambling feature.
How to use YouTube Booster
The first thing to do is to go to the program's website. It details the functionality, and there is also a video with instructions on how to use it. Most of the settings are not made inside the script, but through tables in the root folder. There you can specify proxy addresses, target actions, text for comments, links to videos and much more.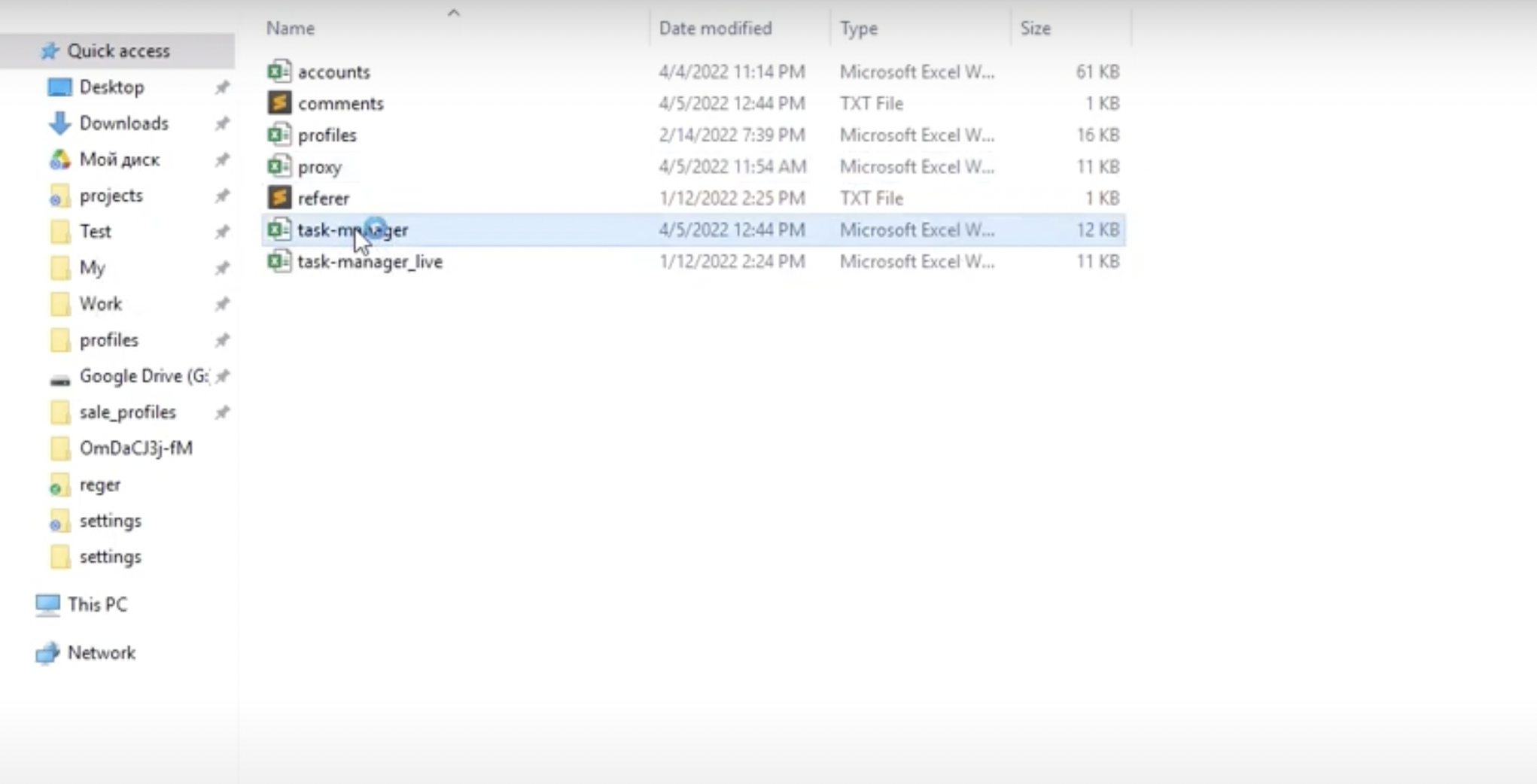 The program itself has a minimalistic interface, where there are only three tabs.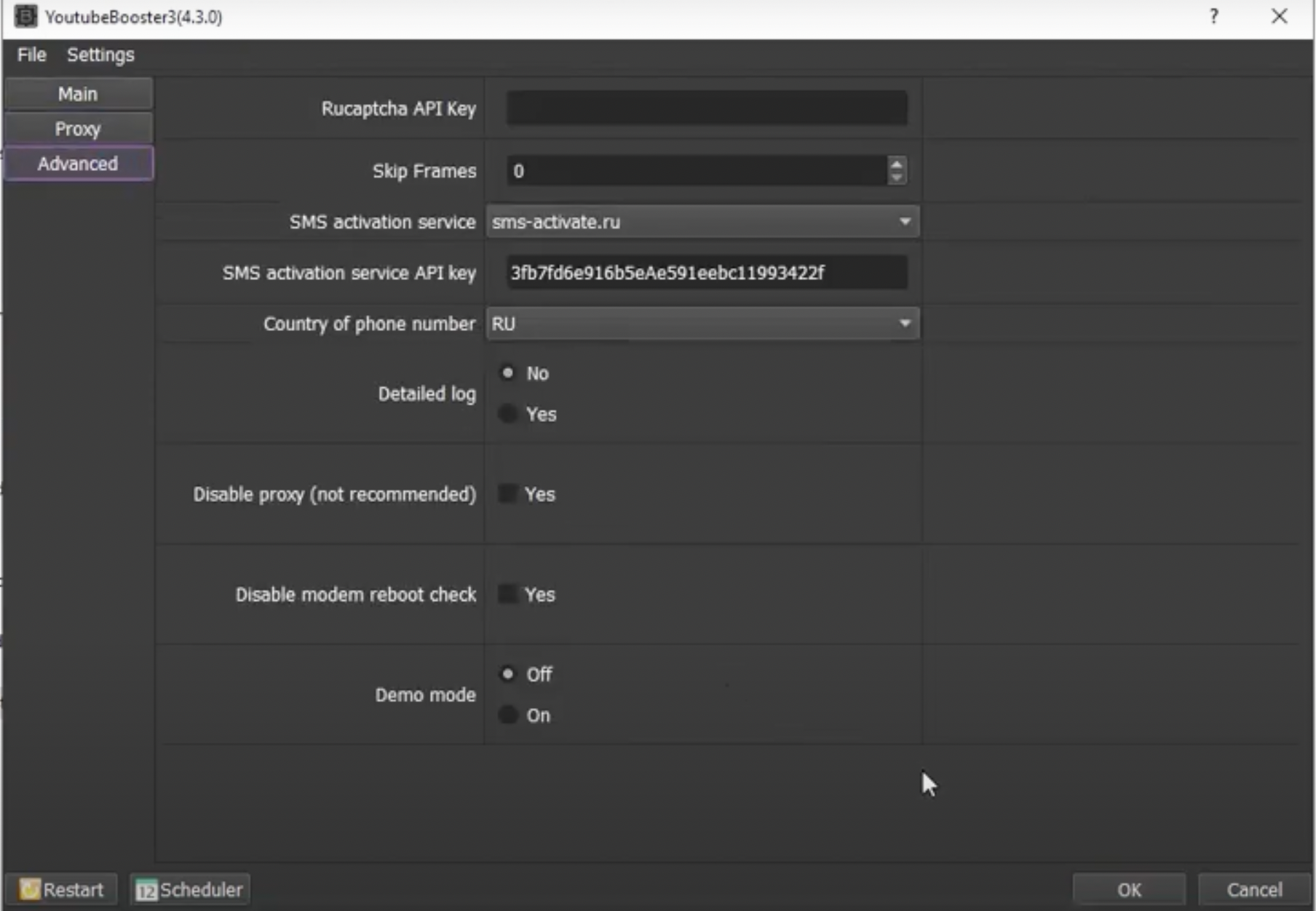 After launching, the software starts logging into your accounts through your browser, then performs the targeted action. In this case, watch a video.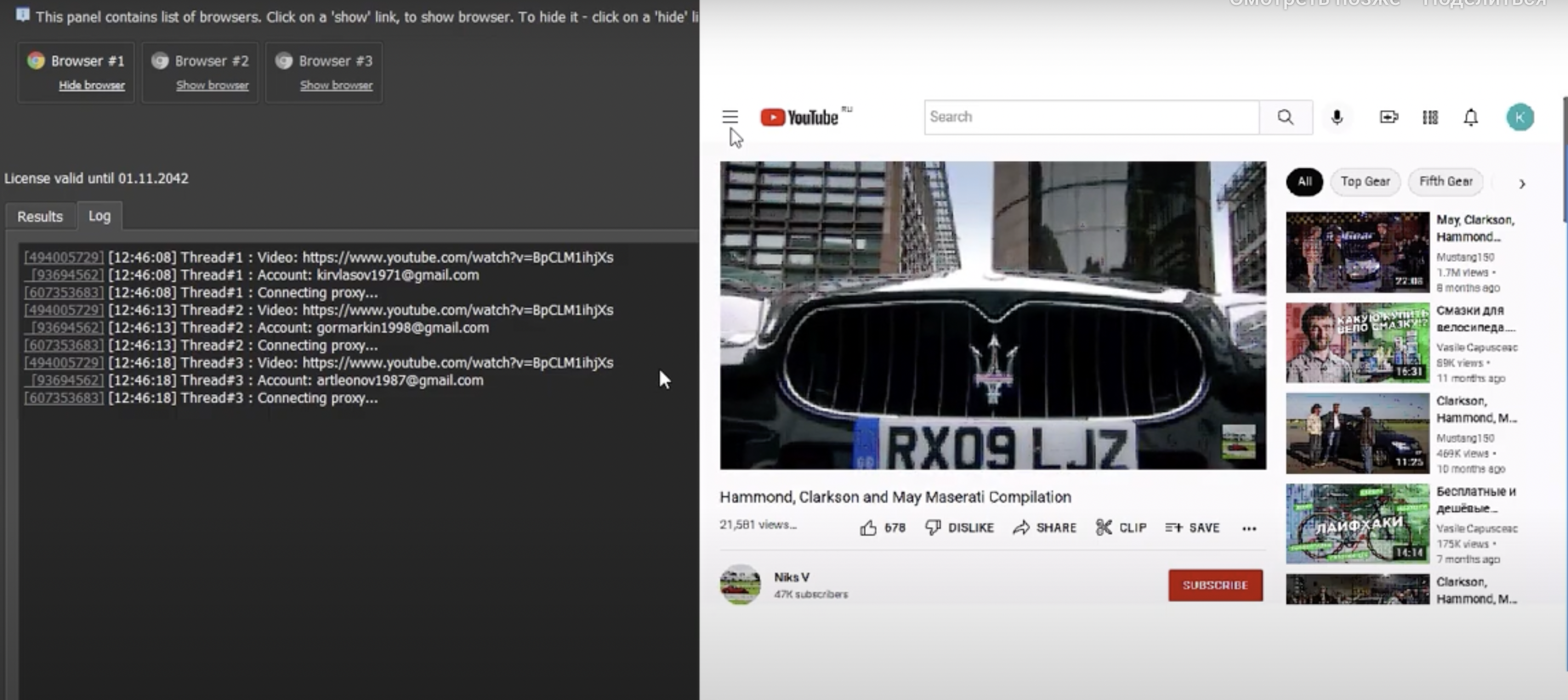 You will get more detailed setup instructions after you install the program folder.
Why use a proxy for YouTube Booster
You can warm up your accounts as much as you want, but the views and subscriptions will still be deducted if you don't use a proxy. This is due to the fact that the security algorithms of any site first of all look at the user's IP address. If there is any suspicious activity from this address, or several people are using it simultaneously - the administration will freeze your accounts, and you will lose time and money.
Good proxies will help you get unique, trusted IP addresses, which YouTube won't be able to find fault with. Server proxies or mobile proxies from any country are best suited for scamming. Using this tool, each account will be unique, which will reduce the number of write-offs and bans to a minimum. If you have any questions about proxy usage, you can ask them in our online chat or any other convenient way. Technical support will help you to choose a proxy depending on your tasks, and even tell you how to set up proxies correctly