Disabling Java in browsers and OS
Modern browsers are not just windows for browsing the web. They contain additional tools that perform a number of tasks related to displaying pages, network code operation, data transfer, viewing media files and other functions that are used in the browser. These functions are useful in themselves, so initially they are often enabled in the browser in order to save users from tedious browser settings after installing it.
And Java is an example of such a technology. Java itself is a platform and programming language that developers use to create applications, scripts, and web page elements. Java is also used when working with a large number of programs and applications which you're using. Browsers also use Java technology to correctly display the content of pages, as well as to work with embedded elements. Despite all the benefits that this technology brings, there are critical flaws that are simply unacceptable to some users. The fact is that in Java there are vulnerabilities that lead to leakage of information about your device, IP address, and other information.
Also, Java slows down browsers and leads to the activation of damaging elements that are hosted on malicious websites, which results in infection of the device. Therefore, it is recommended to disable Java in browsers and even in your OS to avoid serious security problems.
Disabling Java in Windows
Now let's figure out how to disable Java in Windows. This will also disable Java in all browsers at once. Before doing this, close all programs that use Java. After that, follow these steps:
Click "Start", and then go to "Control Panel".
In the search bar enter "Java", and then click on the icon that appears on the panel.
In Java Menu, open the "Security" tab.
Find "Enable Java content for browser and Web Start applications" and uncheck it.
Click on the "Apply" button, then click "OK".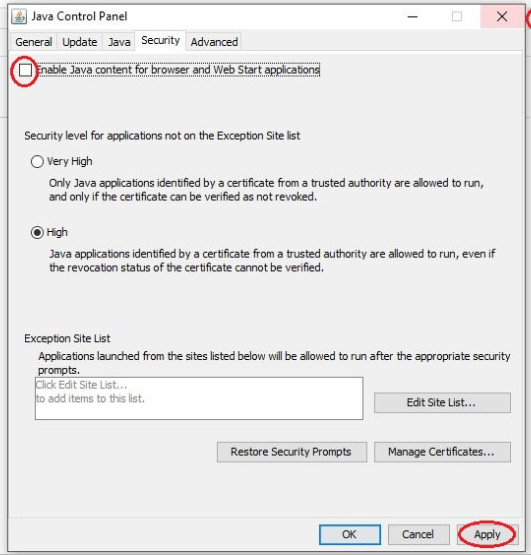 Disabling Java in MacOS
Now let's consider disabling Java in MacOS. The principle is similar to Windows. To disable you will need to:
Close all applications that use Java.
Click on the Apple icon in the upper left corner of the screen.
Select the "System Preference" tab.
The Control Panel will open. There you need to find the "Others" section, then click on the "Java" icon.
In the menu that opens, select the "Security" tab, there find "Enable Java content in browsers" and uncheck it.
Click on the "Apply" button, then – "OK".
Disabling Java in browsers
If the option to disable Java in the OS is not appropriate to you, you can disable it in the browser. Thus, the component will be disabled only in the selected browser, not in all at once. Now let's figure out how to disable Java in popular browsers.
Google Chrome
Disabling Java in Google Chrome is possible only in older versions. To do this, enter the command in the address bar chrome://plugins. This will open additional components window in which you need to find "Java" and click on the blue "Disable" caption. That's all, Java is disabled in the browser. In recent versions, this method doesn't work, that is why you have to disable Java in the OS. It is also recommended to disable JavaScript. To do this, go to the Settings Menu, click Advanced, and then go to "Content Settings". There find the "JavaScript" item and move the slider to the off side.
Mozilla Firefox
Now let's figure out how to disable Java in Firefox. As in other modern browsers, Java support in recent versions of the browser is disabled. If you are using the old version, you will need to complete the following steps:
Open the browser menu, find the "Add-ons" tab and click on it.
In the window that opens, find "Java", after which, in the slider next to it, select "Never enable". If you have the latest Mozilla, then disable Java in the OS.
Internet Explorer
To disable Java in Internet Explorer, use the method for Windows. This is the only way since IE is a Windows component.
Safari
To disable Java in Safari, open the browser; go to the browser menu, then select the "Settings" tab. In the window that opens, select the "Security" tab located at the top in the middle. After that, uncheck "Enable JavaScript" and "Enable Java". Close the Settings window, after which the component will be disabled.

Yandex Browser
Just like with Google Chrome, it is impossible to disable Java in Yandex Browser directly. To do this, disable Java in the OS. But you can disable JavaScript in your browser. To do this, go to the browser Settings, scroll down the window, and then click on the "Show advanced settings" button. Next, find the "Personal Information" section and click on the "Content Settings" button. In the menu that opens, uncheck the "Allow Javascript on all websites" box and click "Done" button.
Java and proxies
In this way, disabling Java positively affects your Internet security. This will reduce the number of IP address leaks, help avoiding the activation of unwanted code on some pages, and also will eliminate vulnerabilities in the platform itself. Therefore, most advanced users disable Java in the OS and browsers. Especially for actions that require a high level of anonymity. The disadvantage is the incorrect display of elements of web pages, as well as the inability to work with programs and applications that use Java. Despite this, the changes are easy to reverse, so you can enable Java at any time if necessary.
But remember that disabling Java is an additional measure that will help slightly raise the level of anonymity and prevent IP address leaks. To ensure complete anonymity, it is recommended to use more proven methods. For example, a proxy server that will pass your network connection through itself, replacing the IP address, location and other network data. You can buy Russian proxies on our website.