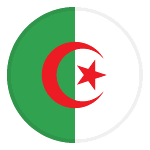 Algeria Proxy
The proxy server acts as an intermediary between the user and the site. The proxy allows you to connect to a web resource not under your real IP, but under someone else's.
It may seem that changing IP addresses is needed for complicated and narrowly focused tasks, but that's not true. A proxy server is useful even for such a basic task as web surfing. Web surfing is browsing through a browser. Surfing the web is best done anonymously, not under your IP address, as you can tell your location (country and city) from your IP. A proxy ensures this anonymity when it changes the user's IP address to its own.
In addition, the proxy server will speed up the loading of sites to which the user frequently visits. The fact is that the proxy has a cache, that is, memory. When first accessing the site, the proxy asks the server where it is stored for permission to access it. It then stores the data in the cache and downloads it from "memory" when you access that site again. This saves time and speeds up the download, because it skips one step between requesting the desired site and displaying it on the user's device.
Finally, proxies can be used to bypass regional restrictions and visit sites that are not available in a particular country, provided that the country where the proxy IP is registered does not prohibit the operation of those sites. Thus, with an Algerian proxy server, a user can visit sites that are not available in his country of residence but are available in Algeria.
Where do I buy Algerian proxies and should I use free proxies?
There are many free Algerian proxies on the Internet, but it is not recommended to use them for web surfing. Many people connect to such servers at the same time, and they fail due to overloading. Disconnecting a proxy while surfing will cause the connection to the network to break.
With paid proxies there will be no such problems: they always have data encryption protocols, in addition, one server is always issued to only one user and, therefore, is not subject to overloading. For web surfing individual server proxies with IPv4 protocol are suitable. At our site you can buy proxies for 30, 60 or 90 days in the "Individual IPv4 (foreign)" tariff (the purchase can include from 1 to 200 proxies).
If you have any questions about working with proxies or selecting a tariff plan, write to the support service (bottom right corner of the site). We work round the clock and will be glad to help you in choosing the right proxy server for your tasks or solving problems with their work.